UH Mānoa Celebrates Comeback With First Day Of School Event

The University of Hawaii in Manoa kicked off the first day of the Fall 2022 semester with a big party to welcome all students back to campus for the first time since March 2020 and the start of the COVID-19 pandemic.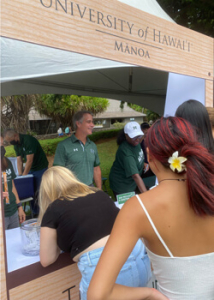 Approximately 3,500 students, faculty, staff, and community members attended Welina Mānoa: First Day of School kick-off event at Campus Center, Legacy Path, and on the lawn of Kuykendall Hall in the heart of the Mānoa campus.
Hundreds of volunteers manned over 100 booths creating a unique resource fair for students that featured clubs, activities, resources, programs, student organizations, games and prizes as well as delicious food and music courtesy of KTUH, uh Mānoa's student-run radio station. The late afternoon event was capped off with a well-received performance by the uh band, cheerleaders and Rainbow Warrior Dancers, where students learned the uh fight song.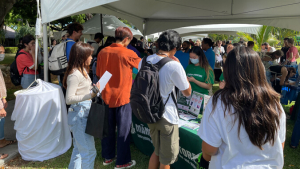 "Honestly, it's a lot of fun, I'm having a great time," said the freshman Lea Camphor. "I didn't know there was a space flight club and I just joined the powerlifting club. I don't do weightlifting, but I'm here now.
"Lots of nice people, everyone really welcoming," said another freshman Bobby Jones. "I've been to all the stalls, there's a lot of community, a lot of support, just trying to reach out to the students and help them in any way I can."
The last Welina Mānoa event was held in 2019. Along with the start of the school year, this year's event also celebrated a return to normal life on campus which had been disrupted by the COVID-19 pandemic.
"The whole campus came back in person," said uh Manoa Provost Michael Bruno. "We have been waiting for this for two and a half years. Everyone is excited. Spirits are high.
Camphor, who has just moved Hawaii from Maryland to attend uhI couldn't agree more.
"It's amazing because the junior and senior years [of high school] have both been impacted by COVID, so having a freshman year in college on a campus like this is truly amazing," Camphor said.
The annual event is organized by the Office of the Vice-Rector for Student Success in collaboration with more than 100 other uh Mānoa units, clubs, organizations, etc.