Treasures in Lewes will host the 10th anniversary party on May 20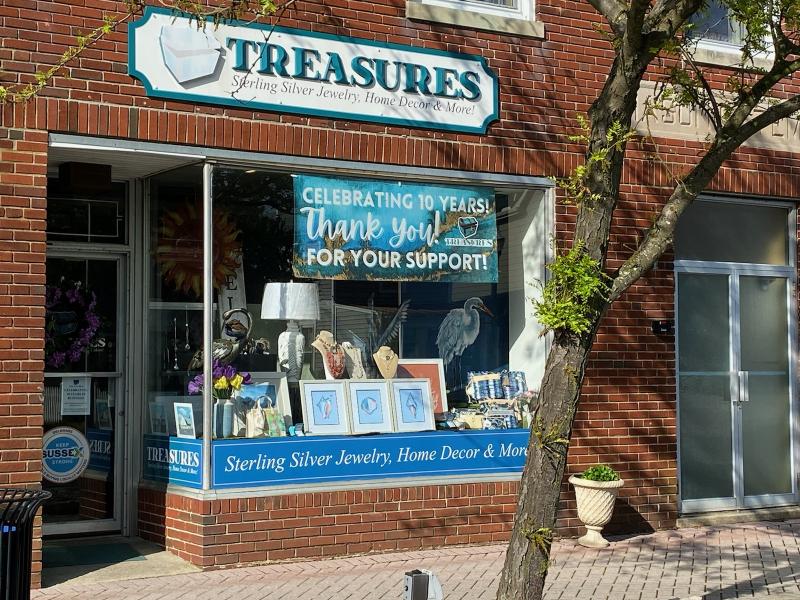 May marks the 10th anniversary of Treasures in the Lewes business community.
To celebrate and thank the local community, Treasures will be hosting a Champagne Open House from 5-7 p.m. on Friday, May 20. Participants will have the opportunity to spin the prize wheel and enter the month-long draw to win one of 10 $50 Gift Certificates.
Owner Michiko Seto began the Treasures journey in May 2012. Within a week, the interior was repainted, the flooring was installed, and the display cases and walls were ready for jewelry, art, and home decor. . These products and many more fill the store today. Over the years, Treasures expanded with a second store located in Long Neck.
Treasures jewelry lines include sterling silver and fashion with brands such as John Medeiros, UNO de 50, LeStage Convertible Bracelets, Ronaldo, Firefly, Devi, Scout, T. Jazelle and more. There are many styles and prices available, and several jewelry brands also offer a guarantee. A sampling of home decor offered at this unique store includes lamps, framed and metal artwork, Millwood Art, side tables, pillows, trays, clocks and wreaths. The Treasures team is proud to have identified over 30 product lines bearing the Made in USA label so that shoppers can easily find the high quality products they are looking for.
Throughout May, Treasures shoppers will enjoy special offers including free gifts with any $100 purchase, including polishing cloths, jewelry cleaner and a selection of jewelry.
Treasures in Lewes can be found at 116 Second St. The Long Neck store is located at 36932 Silicato Drive, Millsboro, behind the Wawa at the intersection of Routes 24 and 5. Store hours are 10 a.m. to 5 p.m. h, from Sunday to Wednesday and from 10 h. to 6 p.m., Thursday through Saturday, with expanded evening hours coming in the summer. For more information, call 302-644-1660.