The Queen invited me to a party on her yacht – and gave me the gift of my life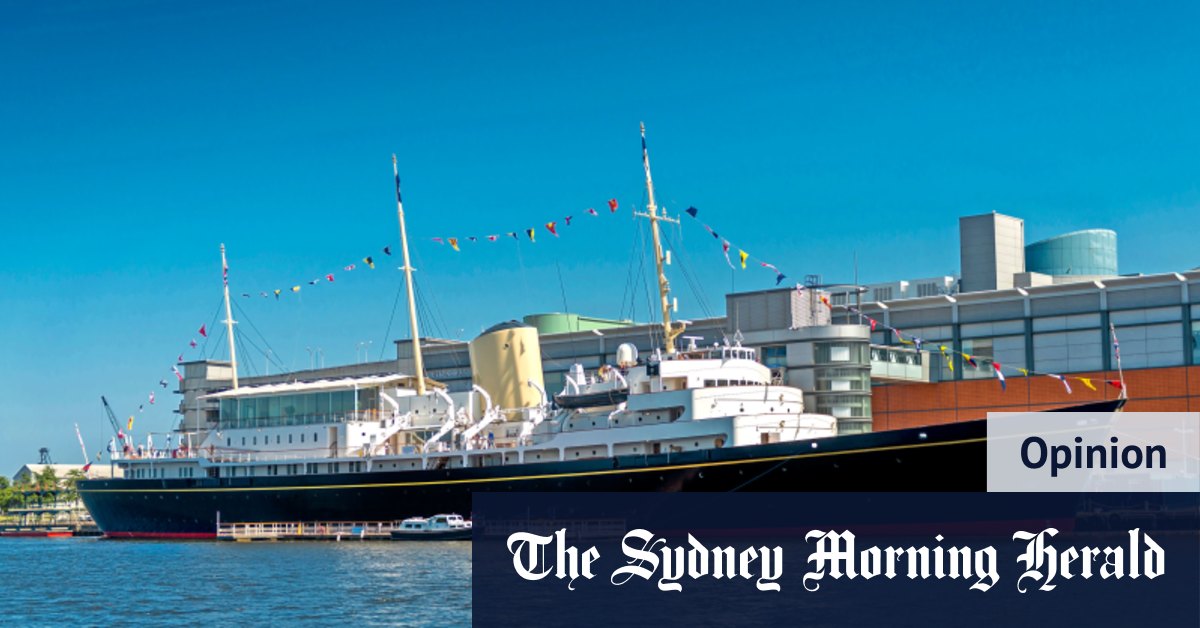 As you do these things, I gravitated towards some friendly faces. The conversations have started. Stewards delivered drinks – very smooth gin and tonics and, if memory serves, beers – and the crowd grew. The party moved to Britannia's official dining room, cleared of tables and chairs.
Canapes arrived on silver trays lined with thick linen napkins. These were unlike anything I had seen before. Pâté on tiny round toasted croutons, topped with a cross of two stalks of chives; small slices of thin, dark bread – I think it was pumpernickel – spread with sour cream and topped with Scottish smoked salmon; and exotic, tiny cucumber sandwiches (the bread had been rolled thin with a rolling pin to give the sandwiches the desired royal dimensions).
We had been exposed to canapes before. I think my mother called them appetizers which we wittily translated as horses doovers. My mother's cooking came from the CWA cookbook and the Australian Women's Weekly, the home of Saint Margaret Fulton. Mother whipped out her hors d'oeuvres, sandwiches and cakes in a snap, for everything from morning teas at tennis to afternoon teas for her girlfriends and the tea tent during the annual celebration of our small primary school.
Her sofas were, uh, more rustic than the Queen's. She always nailed the delicate crustless finger sandwich, but the smoked oysters on Jatz, a huge hit in her day, would never have been royal silverware. Likewise, his devils on horseback and his big slices of lemon cake and seed cake, dishes simply trimmed with the shearer's smoko, would not have pleased the royal household. But they were damn brilliant. See a group of women – all wearing Nana Mouskouri-style kaftans, slingbacks and hair so bouffant it took half a box of VO-5 to put it upright – make their way through thick stakes draped in trawlers laden with smoked salmon or extremely deformed homemade puff pastry in the form of vol-au-vents were the height of sophistication.
Or so I thought. Until tonight.
I never forgot those canapes. To this day, I make variations of it as antipasti or party drinks. It's funny, isn't it, that with all the things I could have taken away from that remarkable and fun night on the Britannia, it was the sofas that gave me the fondest memories: a window about an unknown and elegant world of food and liquor service.
After two hours of chatter and laughter, canapes and weak G&Ts, a hand quietly pressed to my lower back with an "If you don't mind sir" and I and others were gently led into the direction of the ship's rail. I looked for a place to leave my drink. The young officer said, "No, sir, keep it with you.
Then, as we gathered along the port rail of the ship, far in the darkness at the end of the pier, a military band began playing show tunes. They never tell you about that part. The royal family, apparently, love surprise and delight on people's faces. The band, in all their full parade kit, marched into the light cast by the ship's searchlights, stopped and kicked off a little parenthesis of happy tunes – a playlist designed to delight rather than impress. I wished it would never end.
I never met the queen. She was doing her job moving around the party and meeting most of her guests. I always felt like I was in the wrong place at the wrong time. I had a conversation with her husband, the accident-prone Prince Philip, in a small group of athletes and coaches. Unfortunately, he behaved perfectly well.
Rob's sofa of the day
My favorite canape is deviled eggs. You don't expect them on a set these days – it's so old school – and yet everyone is delighted with them. It proves my theory that the greatest flavor on a plate is nostalgia. Here's my recipe, with a little help from Australian cooking goddess Margaret Fulton: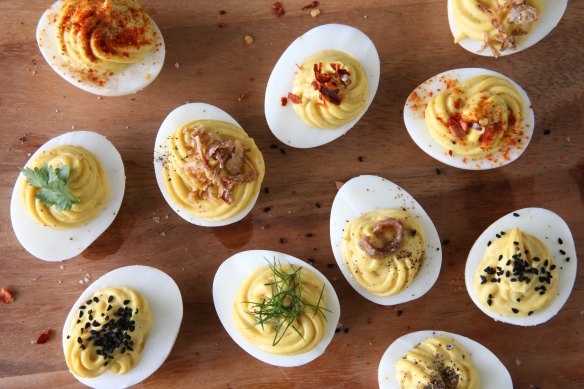 Ingredients:
12 eggs
200g (2/3 cup) mayonnaise
1 good tablespoon of Dijon mustard
3 tablespoons finely chopped chives
Cayenne pepper to garnish (optional)
Method:
Boil the eggs in a large pot of water for about 7-8 minutes or until hard-boiled. Leave to cool, then peel and cut each egg in half. Carefully pick the egg yolks from the whites in a medium bowl. Place the egg white halves on a serving platter. Mash egg yolks with mayonnaise and mustard until smooth; stir in chives, season to taste.
Spoon the mixture into a piping bag fitted with a 1.5-centimeter barb tube; pour mixture into egg halves. Sprinkle with extra chives, and if you like a little more devil in your deviled eggs, a little sprinkle of cayenne pepper will liven things up. If you don't have a piping bag, simply drop teaspoon-sized dollops into the whites and smooth them out.