Silicone Shark Fin Ice Cube Mold for Beach Drinks – Launch Reusable Trays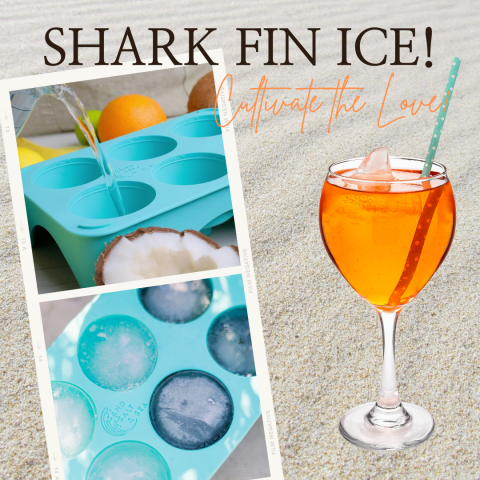 Tucson, United States – June 17, 2022 —
The new silicone shark fin ice cream mold is specially made in the USA as a novelty addition for seaside and beach themed parties. Sea lovers can use the mold to produce quirky shark fin shaped ice chunks, suitable for refreshing cocktails and other sweet drinks.
For more information, see https://sandsaltandsea.com
Announcing its inaugural release, Aquamiraria is calling on its nationwide clientele to celebrate the vast marine life and ecosystem of the global ocean by proudly sampling shark fin ice cube molds. When the chunks float in the drinks, the ice looks like a shark's fin prowling the surface.
With Shark Week approaching in the United States this summer, Aquamiraria is releasing the new Silicone Fin Mold to provide American marine life enthusiasts with an entertaining accessory. Shark fans will find the resulting chunks of ice to be a fitting testament to the beauty and smooth curve of shark fins, allowing them to share their appreciation of sharks on a larger scale.
A food grade silicone mold tray can be used to make six floating shark fin ice chunks at a time, each measuring 2.5 inches wide. Aquamiraria recommends the product as an ideal gift for friends and family as well as an appropriate staple for seafood restaurants and oceanside barbecue events.
Customers will further benefit from a free e-booklet, designed by Aquamiraria as an accompanying gift with all orders of the Shark Fin Ice Cream Silicone Mold. It features a selection of fun shark and ocean-themed cocktail recipes, like the company's own creation Lemon Sharkade.
A satisfied customer said of the product: "The silicone mold is thick and of high quality. The cubes popped out effortlessly and the fins float high above the drinks – it really does look like an ice cream shark is in your glass. Another added: "It was a lot nicer than I thought. It's very thick and very strong silicone. I'm impressed and will be ordering more.
With its latest release, Aquamiraria continues to cultivate adoration for the planet's ocean environments and all of their sea creatures. The family business aims to improve awareness and education around natural marine life by providing themed products worldwide.
Interested persons are invited to visit https://sandsaltandsea.com to learn more about Aquamiraria's new silicone shark fin ice cream mold.
Contact information:
Name: Belma Marshall
E-mail: Send an email
Organization: Aquamiraria, LLC
Address: 6281 N Oracle Rd, Tucson, AZ 85704, USA
Website: https://sandsaltandsea.com/
Build ID: 89076888
If you detect any problems, problems or errors in the content of this press release, please contact [email protected] to let us know. We will respond and rectify the situation within the next 8 hours.
COMTEX_408835993/2773/2022-06-17T10:23:53