Post US Womens Open Legends Event A resounding success | LPGA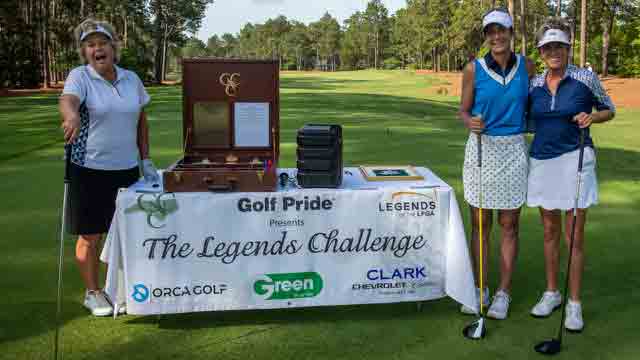 In a week filled with women's golf – from the ShopRite LPGA Classic, to the Volvo Scandinavian Mixed, to the Curtis Cup, to the fond and fresh memories of Minjee Lee at Pine Needles – it was easy to miss one. which took place between the two.
On Monday, after the conclusion of the US Women's Open, as the golfing world still raves about North Carolina courses and the USGA opens its new Golf House facilities in Pinehurst, a group of 24 touring legends LPGA stayed in the Sandhills for a couple of extra days. Players like LPGA Hall of Famer Hollis Stacy, former Solheim Cup captain Rosie Jones, Pine Needles Director of Education and Grand Champion Michelle Redman, and Grand Champion Cathy Johnston-Forbes, took part at the Country Club of North Carolina on Monday and Tuesday in The Legends Challenge presented by Golf Pride.
Johnston-Forbes was one of the catalysts. Johnston-Forbes, a North Carolina native and former Tar Heel, and a CCNC woman named Connie Lovell brought up this Legends event in February to coincide with the return of the US Women's Open to Southern Pines.
The two women met the Foundation for First Health and the germ of an idea germinated. On June 5, the day after Minjee Lee hit the final hole at Pine Needles to win her second major championship, the Legends event kicked off on a course fewer people know about, but one with a rich history. The North Carolina Country Club hosted the US Junior last year. And in 1980, Hal Sutton won the US Amateur there. Locals nod as if everyone should know how awesome the course is, but few outside eastern North Carolina (or those who follow the history of USGA amateur and junior championships ) might tell you the first thing.
"It's a great golf course," Stacy said last week. "We are grateful to play there. Hopefully people will know more. »
June 5 was also Cancer Survivors Day, part of the foundation's mission to thank hospital staff for all their hard work over the past two years.
Jackie Gallagher-Smith won the event with a birdie on the first hole of sudden death after she and Moira Dunn-Bohls shot 4 under par 68. Leta Lindley was third at 1 under par and Stacy, still well-balanced at 68, finished tied for fourth with Jones and Suzy Green-Roebuck at 1-over par.
"We think it was a huge success," Lovell said afterwards. "The players were engaging and friendly and everyone enjoyed and enjoyed the golf course. And the weather was perfect.