Party Time: 7 books for birthday parties | Milestones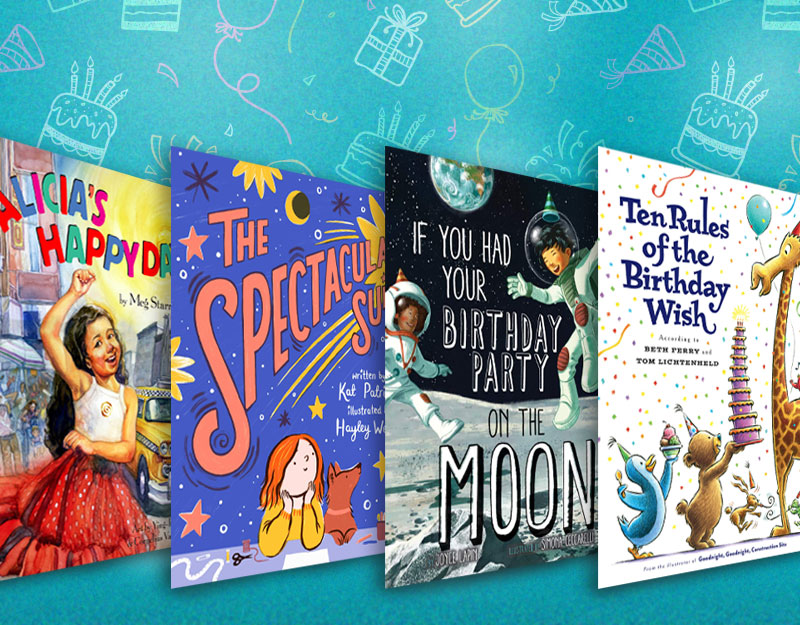 The most important day in any child's calendar is their birthday, and it's no wonder. Gifts, cakes, family and friends are just some of the elements that make every birthday the best day of your life! These seven titles are perfect as gifts for the child of the hour or in anticipation of the big day.
The most important day in any child's calendar is their birthday, and it's no wonder. Gifts, cakes, family and friends are just some of the elements that make every birthday the best day of your life! These seven titles are perfect as gifts for the child of the hour or in anticipation of the big day.
Ten rules of the birthday wish by Beth Ferry. illus. by Tom Lichtenheld. Putnam. ISBN 9781524741549.
PreS-K–Every child yearns for their birthday and spends hours dreaming of the big day, and the rules in this cheerful book will sound completely familiar to many ("Rule #2: You have to have a PARTY!"; "Rule #8: You have to make a wish"). Kids will especially enjoy reading and re-reading this book to laugh at the exceptions to the 10th anniversary rules and to point out the fun details in Lichtenheld's anthropomorphic animal designs. Every birthday rule has at least one exception, and each is silly, charming, or both. Besides the humorous rules and exceptions, the story has a pervasive sweetness, reminding adults to cherish the days of birthday wishes and to celebrate the optimism and hope of young children.
When is my birthday? by Julie Fogliano. illus. by Christian Robinson. Roaring stream. ISBN 9781626722934.
PreS-Gr 1–An exuberant ode to children's anticipation for the most special day of each year: their birthday. The over-the-top excitement is echoed in Robinson's clever use of scale, such as in a broadcast featuring a gigantic gift tied with white string. A little girl reaches out to pull the string, dwarfed by her size. The long, tall topper size is also ideal for displaying a towering, pool-sized birthday cake so large that the young birthday boy needs a ladder to reach the candles. A muted palette of slate blue, mustard yellow, forest green and burnt sienna, sometimes appearing against a rich black background, reflects the festive tone of the text without tipping over to what might be in the hands of a poet and of a less skilful artist. — overwhelming or odious in its fervour. Instead, readers will immediately appreciate and recognize the joyful expectation. Dynamic and perfectly childish, meant to be read aloud with enthusiasm.
If you had your birthday party on the moon by Joyce Rabbit. illus. by Simona Cecarelli. Sterling/Silver Oak. ISBN 9781454929703.
K-Gr 3—This title playfully educates young readers about the moon through the depiction of a moon-based birthday party. The text is written in a way that will appeal to children who like a story format as well as space fans interested in facts. For example, a fact reads, "In choosing the best location for your party, it helps to know that the same side of the Moon always faces Earth." The illustrations in the book are large and leave plenty of room for imagination. The subject will appeal to space lovers and astronomers.
[See also: 

First Books About Weddings | Milestones

]

The spectacular costume by Kat Patrick. illus. by Hayley Wells. Doodle us. ISBN 9781950354696.
PreS-Gr 2-Frankie's party is coming up and her family has been involved in the preparation. The problem is her attire: Frankie doesn't want to wear any of the three dresses her mother gives her, and her favorite sweater isn't quite right either: "What Frankie wanted was a suit . A spectacular costume. Fortunately, his family finds the drawing and manages to sew a costume that delights Frankie: "It looked exactly like what Frankie felt: like a mighty stormy sky. Completing her look with slicked back hair and cat eye sunglasses, Frankie feels spectacular for her birthday party with all of her friends sharing the joy. The desire to choose particular clothes will resonate with those who have ever seen a preschooler dress up. Older readers will likely pick up on the topic of gender norms being disrupted as Frankie eschews a party dress for a party costume. This is a perfect birthday celebration that allows an individual's sense of style and self to shine.
The birthday box by Leslie Patricelli. illus. by author. Candlewick. ISBN 9780763628253.
Toddler-PreS-A child wearing only a diaper and a striped party hat receives a present from Grandma. What is that? The toddler removes the packaging and discovers a big brown box! A box is full of possibilities and this kid lets the imagination rule. When the child finally opens the gift, there is a stuffed dog inside. Now both can create adventures. The container becomes an airplane, a sailboat and a sled. The new friends share a snack inside its protective walls before settling in for a cozy siesta. Patricelli's straightforward first-person narration is refreshing. With bold black outlines, acrylic paintings are expressive and endearing. Dynamic solid color backgrounds, on which the box casts its meaningful shadow, add a feeling of spontaneous fun. It's a perfect birthday book for a toddler, with a box, of course!
Alicia's good day by Meg Starr. illus. by Ying-Hwa Hu & Cornelius Van Wright. Shining star. ISBN 9781887734851.
PreS-Gr 1-An urban setting serves as a backdrop for a little girl celebrating her birthday. Alicia's mother guides her through the streets where she is greeted by neighbors, shopkeepers, street vendors and even taxi drivers. Developing the fantastic quality of the day, the planes write a greeting in the sky, and the pigeons bow to the girl whose birthday it is. Finally, this perfect interlude is completed with a huge ice cream cone from the Icey man and a feast with his loving extended family. The watercolor illustrations paint a cheerful portrait of a bustling Latinx. An optimistic and joyful tale.
A great day by Anne Wynter. illus. by Alea Marley. HarperCollins/Balzer + Bray. ISBN 9780062934932.
Baby-Toddler-There's nothing like a little one's first birthday. Waiting. The emotions. And a lot of firsts. In this cute hardcover book, a black family celebrates a child's first lap of the sun. In free text, the book covers the highs (unpacking a big box with a friend) and the lows (the scary popping of a balloon) of the day. Jewel-toned artwork showcases the joy and festivity that shines throughout. Word a is repeated on each page, reinforcing the baby's age in a developmentally appropriate way. A great choice for introducing baby shower events to the baby of the hour and managing the expectations of older siblings who might need some reassurance. A good choice for reading aloud before, during and after the big day.