Month-long beer event builds support for CROWN bike path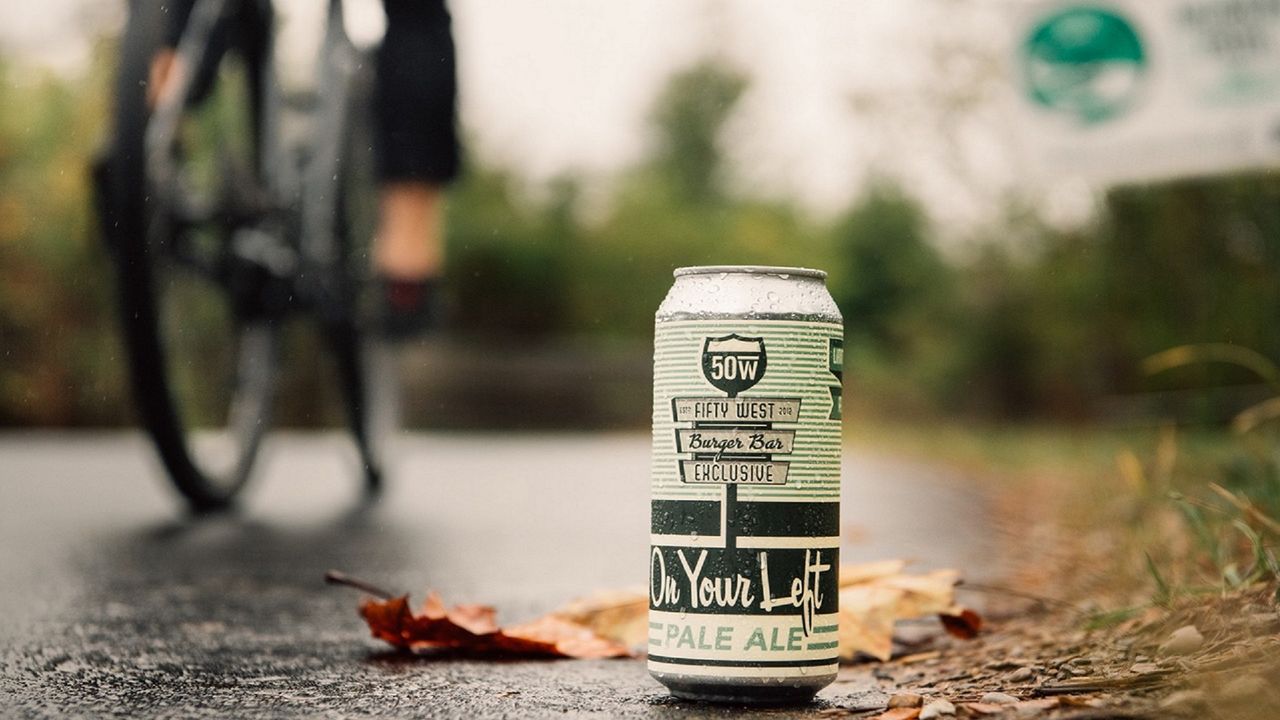 CINCINNATI — For years, the breweries have served as popular gathering spots for cyclists and running groups after riding considerable miles through greater Cincinnati. And now, those same breweries are helping raise funds to create the region's first urban trail loop.
---
What do you want to know
Ales for Trails aims to use a local love of beer and cycling to raise awareness and support the ongoing CROWN Bike Trail
Plans to connect mixed-use paths through greater Cincinnati to create a 34-mile loop
The projects aim not only to create recreational opportunities, but also to make local cycle paths safer and more reliable as a means of daily transport.
The event runs throughout the month at 10 participating breweries who have donated to the CROWN plan
---
In July, 10 brewers from all over take part in the annual Ales to Trails campaign to publicize the projects of the CROWN network.
CROWN, which stands for Cincinnati Riding or Walking Network, is a 34-mile paved multi-use trail that will connect more than 50 communities in southwestern Ohio.
When completed, the CROWN will connect several key regional trails currently separated from each other – Wasson Way, Ohio River Trail, Little Miami Scenic Trail (often referred to as the Loveland Bike Trail), Mill Creek Greenway and Canal Bikeway.
To participate in the month-long Ales for Trails promotion, individuals must first stop by one of the participating breweries to pick up a Trail Hop map or download one online. Then, when they buy a beer, they will get a stamp.
The first 100 people who submit a completed "Trail Hop Map" by July 31 will receive an Ales for Trails Buff. They will also receive entry into sweepstakes for a chance to win brewery items and gift cards.
"Trails and breweries are places designed to bring people together," said Caitlin Sparks of Tri-State Trails, the nonprofit spearhead of The CROWN project.
"There are many local breweries on the CROWN trail and some are not far away," she added. "We think it's a fun way for people to get together, have fun, and enjoy two of Cincinnati's greatest resources – the breweries and the track.
Streetside Brewery participated in the inaugural fundraiser last year. Garrett Hickey, its managing brewer and owner, called it a "great community event" for an "incredible community asset". He expects this year to be even better.
"Cincinnati is lucky to have something like this that promotes ease of transportation and the health of our citizens," he said. "We are delighted to be back."
A year of growth, progress and bikes
Now in its second year, Ales for Trails has grown from seven breweries to 10. Each of the breweries is on or near part of the CROWN trail loop – and they are spread throughout the region. There's even one in northern Kentucky this year.
The list of participating breweries:
Fifty West Brewing Company (Mariemont)

Listermann Brewery Trail House (Norwood)

MadTree Brewing Company (Oakley)

Sam Adams Cincinnati Taproom (Beyond the Rhine)

Streetside Brewery (East End)

Taft's Ale House (OTR)

Taft's Brasspourium (Spring Grove Village)

Urban artifact (north side)

Woodburn Brewery (East Walnut Hills)

Wooden Cask Brewing Company (Newport, Kentucky)
What is unique about this event is that Tri-State Trails, the organization behind the CROWN plan, will not receive any money from beer sales. Instead, each of the breweries donated money to support the project and help raise awareness.
Tri-State Trails will be accepting private donations on its website.
Wade Johnston, director of Tri-State Trails, said that in addition to raising funds for the construction of the trail, it will also increase support for the project and for cycling in general.
Tri-State Trails, an initiative of the environmental association Green Umbrella, promotes cycling as an important tool for improving community vibrancy and equity.
Once completed, the CROWN will connect to a number of parks, schools, employment centers, stores and entertainment options, such as breweries.
"Like neighborhood breweries," Johnston said, "the trail is a welcoming public space that connects people."
Giacomo Ciminello, the dining room manager at Woodburn Brewery in East Walnut Hills, sees "many joggers and cyclists" pass the large street-facing windows on Woodburn Avenue. "It made sense to give them a little respite while they enjoyed the day."
For Bobby Slattery, owner of Fifty West, the subject is a little more personal. Although he hesitates to call himself a "cyclist" because he "doesn't do 200 km a week", he is passionate about sport and horse riding, even taking part in a few triathlons.
Since opening a decade ago, its east-side brewery has been a regular stop for cyclists, in part because of the Little Miami Trail that now runs behind it.
"It wasn't always in our backyard," he said. "We spent about 10 years working with all the different agencies to help put this track together. Now we receive thousands of cyclists and runners every month. »
Fifty West actively sponsors running groups and local cycling teams. Slattery wanted to find an "active way" for people to get involved in the community.
Having a cold beer — and one of Fifty West's popular burgers — is also a great way to kick back some carbs and calories after a long run or bike ride, he joked.
"It's a social thing first and foremost," Slattery said. "There's no better way to relax after a 30 mile ride than having a beer with your friends and just talking about the experience or life in general."
Over the course of a month, Fifty West will see "thousands" of hardcore cyclists and runners making their way through the tavern. What excites Slattery the most, however, is seeing casual riders enjoying a weekend together on the track.
"What's neat, for us, is seeing the families who decide to go for a ride and then stop by our brewery for a snack after their ride," he said. "That's the whole story."
Build a fun and useful network of trail networks
The CROWN project has received support from an array of supporters, including Wasson Way, Ohio River Way, the City of Cincinnati and Great Parks of Hamilton County. There was also a collection of partner companies.
Tri-State Trails will use $44 million in public funding, plus an additional $10 million in private donations to bring this dream to life.
The trail connection process is about halfway through so far.
Katie Varatta is a "big fan" of the CROWN proposal. The 42-year-old has been cycling for over 15 years, since living in Chicago.
Now in Anderson Township, Varatta's typical route takes him from his home in Anderson Township to Salem Road and Eastern Avenue. It will pass Great American Ball Park and Paul Brown Stadium before turning around and heading back.
"More often than not," she'll stop at Streetside on Eastern for a beer (or two) on the way home.
"Whenever I stop after a ride with a group of people or even alone, there are always other cyclists doing the same thing," she added. "It definitely adds to that sense of community."
Downtown resident Colin Groth loves the local cycling scene – local bike shops; the growing network of parks and trails; the camaraderie of the ever-growing number of riding groups, and the regular get-togethers at local businesses, whether it's cafes like Deeper Roots or a local brewery. He often parks at Fifty West before taking the Loveland Trail.
Security remains a concern, however.
"We have great amenities on our trails like Lunken, Loveland, and the Ohio River Trail, and I take advantage of them once on the trails, but it's always a challenge to share the road (with cars and trucks )", did he declare.
A few years ago, a distracted driver hit Groth while cycling near Findlay Market in OTR. He noted specific areas, like Riverside Avenue on the east side, Central Parkway downtown, and other areas with unprotected bike lanes.
The CROWN will help mitigate some of these travel risks. It would provide cyclists with a fully paved, off-road path.
As part of the Trails for Ales promotion, Tri-State Trails will not only promote the CROWN, but also general advocacy for the needs of cyclists.
"It's not just about fundraising. It's about raising awareness of cycling as a recreation and a mode of transportation," Sparks said. She sees the promotion to "get people talking about it over a beer."
More information on the CROWN plan and the Ales for Trails event is available on the event website.