Community Closet returns for a fifth event in August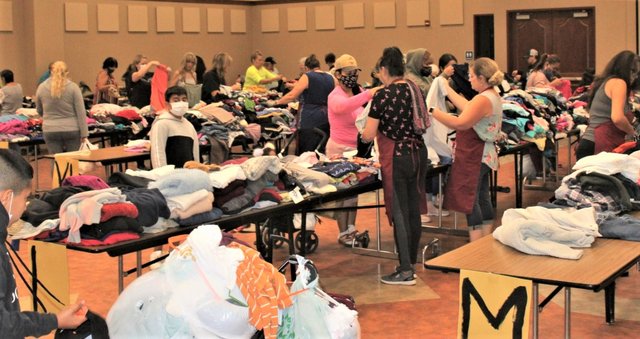 What started as a simple social media post has now become an event awaited by many.
On Saturday, August 20, the Oakdale Enrichment Society will once again host Oakdale's Annual Community Closet. The event will take place from 9 a.m. to noon at the Gene Bianchi Community Center, 110 S. Second Ave., Oakdale.
"I just thought we could do a community clothing swap," Mayor Cher Bairos said of the initial ideal in 2018.
Bairos, also vice president of OES, shared the thought that came to her after looking at all the perfectly good clothes her kids had passed. Clothes that could probably be used by someone else in the community. The idea caught on quickly and led to friendships with others willing to help.
Lisa Ballard was one of those volunteers when the idea came out with a Bairos social media survey. Ballard, a longtime Oakdale Unified School District employee, shared that she loved the idea from the start.
"I'll tell you, Lisa really excites the volunteers," Bairos said of the current OES president. "That's one of her strengths. She can recruit volunteers.
Ballard shared that each year more than 400 families are served during the three-hour event. A number of this size requires a lot of help to not only be staffed on the day, but also set up the week before. She relies on a total of 200 volunteers throughout the week to make the event a success.
"Volunteers are needed Monday, August 15 through Thursday, August 18 from 5-7 p.m.," Ballard said. "Just come between these hours on these evenings to donate clothes or volunteer. If you can stay to help out that would be great. If you can't, we understand.
"It's Lisa's baby," Bairos said of the annual event.
Ballard agreed, noting that in her 35 years with OJUSD, she was aware of the need of so many community members for an event such as the Community Closet.
"We want to help everyone… Valley Home, Knights Ferry. We don't ask to see ID if they're from Oakdale," Ballard said, adding that the event isn't limited to a certain income level or demographic either; it's for everyone.
"I myself, the president of the club, took clothes myself. There's some cute stuff," Ballard shared. "I wear second-hand clothes."
Although a lot of work, the annual event certainly comes with a payoff.
"The most rewarding part is seeing kids being able to get whatever they want," Ballard continued. "Maybe a mother doesn't have the money to buy cowboy boots and there's a pair of cowboy boots. Mom doesn't have to say no. Seeing them smiling and happy gives me the most joy.
"Just everyone participates. Everyone goes there. It's not just one type of family," Bairos added. "It's the community that comes together. Even the surrounding communities come.
Bairos noted that the interest and enthusiasm for the event continues throughout the year, stating that they have received text messages throughout the year from people interested in helping, donating , to participate or all of the above.
"Something that started as a crazy idea has turned into something beautiful for our community," she said.
Nor was it something originally envisioned as an annual event.
"But there was such a need. So many people reached out, dropped off clothes and helped. I was like, wow, this is the right thing to do. We can do it," Bairos added.
As for this year, organizers shared that they no longer stock clothes year-round or the weeks leading up to the event. Opening the Community Center the week of for two-hour evening slots proved to be the easiest to manage. The most needed items are clothes of all sizes, from newborn to 3X. Lightly worn clothing for all seasons. Sorting clothes by gender prior to donation is also helpful for setters.
"My happiest moment was a little girl last year who said, 'Mom, can I have two dresses?'" Ballard explained. "I went to this little girl and told her you can have as many dresses as you want. The mother just looked at me. She was thrilled that she could have as many dresses as she wanted.
Bairos echoed the sentiment of affection for the event and the personal highlights, sharing watching the kids stuff bags of clothes and not having to spend any money as very memorable.
"Bring your bags if you can. Most people have big tote bags," Ballard concluded. "There are no limits or fees. Just take what you are going to use.