Broadway Barks is experiencing a revival with a star-studded in-person event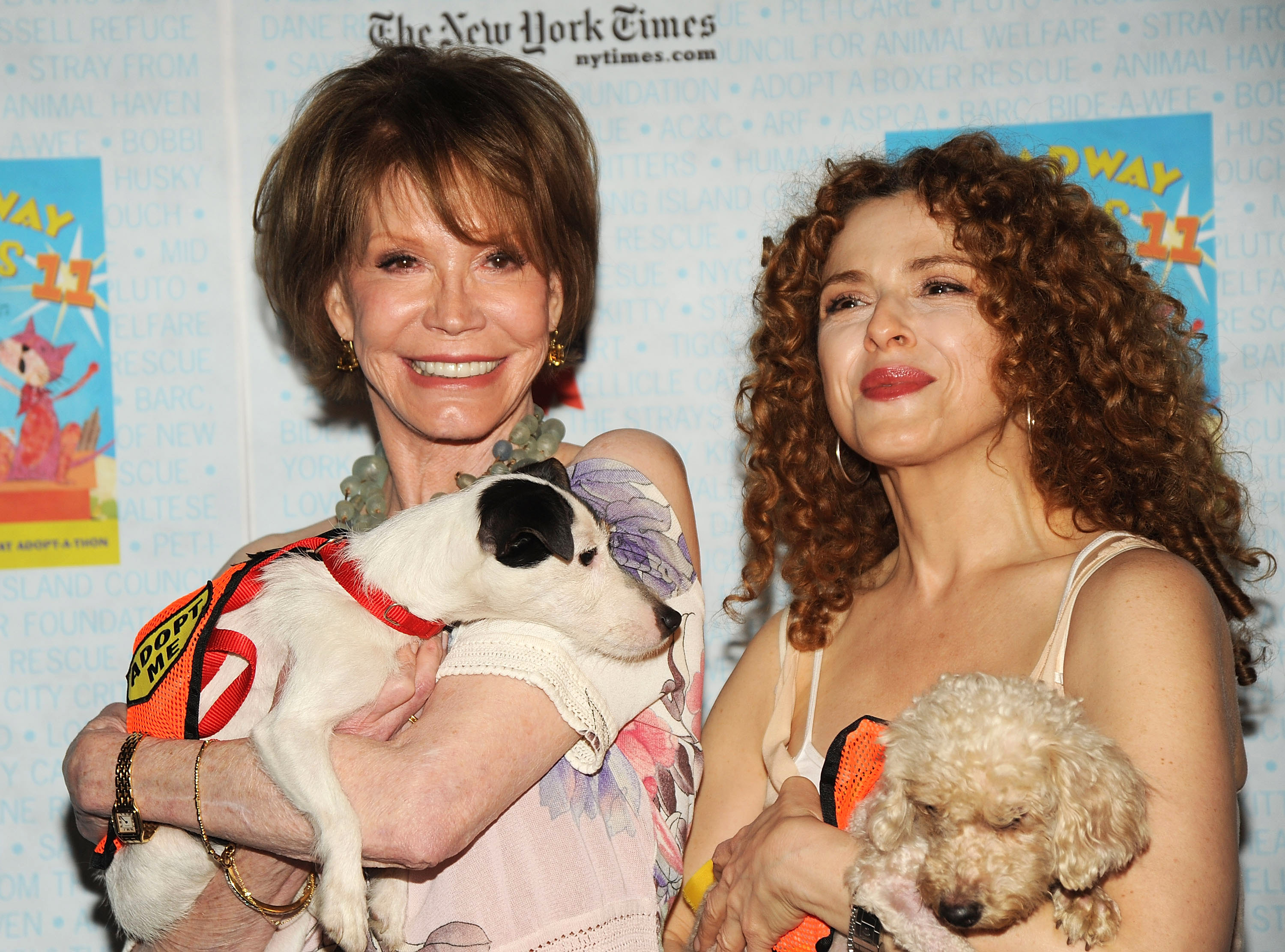 This summer marks the in-person return of a great New York theatrical tradition, Broadway Barks, a pet adoption event that features some of Broadway's biggest stars and some of the cutest four-legged stars.
On July 9, for the first time since 2018, animal rescue groups from across the New York area will come together at one of the largest, most colorful and the most starred. Produced by Broadway Cares/Equity Fights AIDS, Broadway Barks will take place in Shubert Alley, located between 44th and 45th streets.
For four years, the event was either canceled or performed virtually. But in person, it's where it's at and it's an excuse for stargazing, cuddling and some truly awful puns – not here though: it'll be perfect.
Broadway Barks was co-founded by Bernadette Peters and Mary Tyler Moore, and you can expect an array of Broadway celebrities – everything from some Tony Award winners, a viral star to an actual (two-legged) Wolverine – Passing to help find homes for animals at participating shelters in the New York area. This year's event will be co-hosted by Peters and Tony winner and star of music man, Sutton Foster.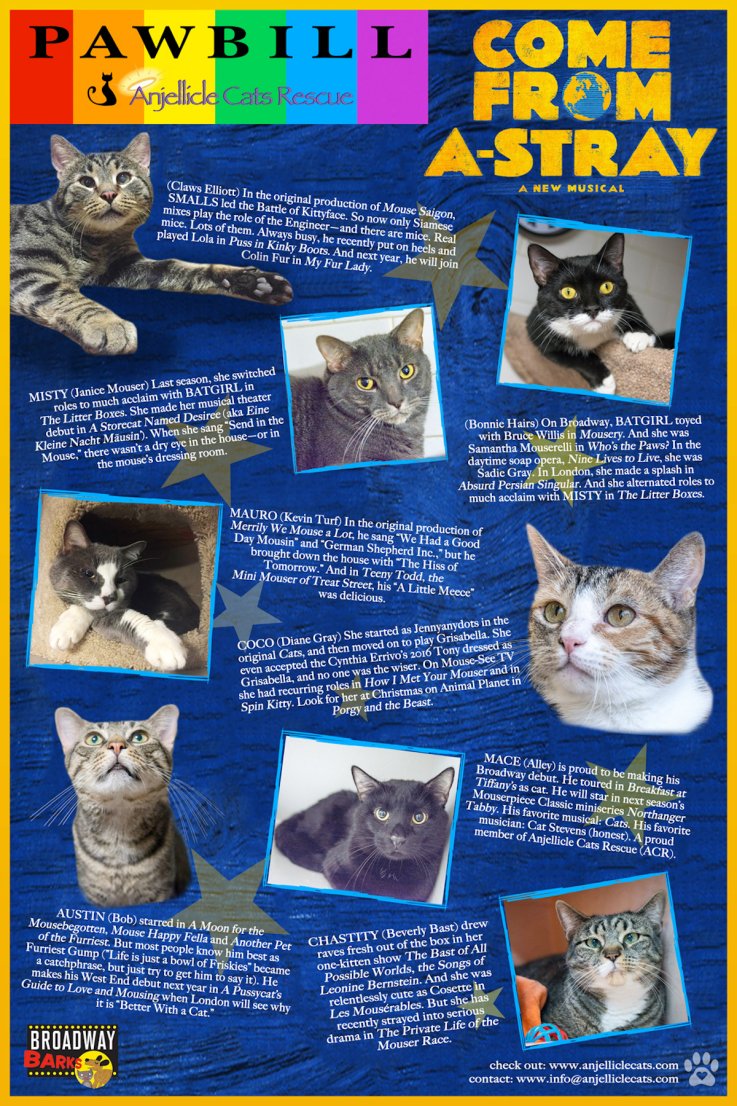 Rescue groups are doing everything they can to introduce their adoptable pets to Broadway Barks. Above is a poster designed by Heike Klassman for Anjellicle Cats Rescue for the 2017 event.
The announced group of celebrity guests includes Shoshana Bean (Mr Saturday night), famous animal trainer Bill Berloni, Jewelle Blackman (Hadesville), Tammy Blanchard (Little Shop of Horrors), Alex Brightman (Beetlejuice: the musical), Kerry Butler(beetle juice), Bobby Conté (Company), Lilli Cooper, Clifton Davis, John Dossett (place of paradise), Elder Claybourne (Company), Myles Frost (GM), Jared Goldsmith (Dear Evan Hansen), Randy Graf (Mr Saturday night), Tamar Greene (hamilton), Chastise Harmon (Mr Saturday night), Shuler Hensley (The music man), Anthony Hopper (A strange loop), Jayne Houdyshell (music man), Hugh Jackman (music man), James Jackson Jr (strange loop), Britney Johnson (Nasty), Ramin Karimloo (funny girl), Eddie Korbich (music man), Leslie Kritzer (beetle juice), John-Michael Lyles (strange loop), Jane Lynch (funny girl), Michel Maliakel (Aladdin), Jefferson May (music man), John Andrew Morrison (strange loop), Abby Muller (Six), Jessie Muller (Minutes), Mary Mullen (music man), Donna Murphy, Suzy Nakamura (POTUS), David Payer (Mr Saturday night), Randy Rainbow, Christopher Sieber (Company), Jennifer Simard (Company), Jaquel Spivey (strange loop), Talia Suskauer (Nasty), Jason Veasey (strange loop), Julie White (POTUS).
Animal rescue groups that will be at Broadway Barks include Abandoned Angels Cocker Spaniels Rescue Inc., Adopt A Boxer Rescue, AdvoCat Rescue, American Society for the Prevention of Cruelty to Animals (ASPCA), Animal Care Centers of NYC – formerly Animal Care & Control (ACC), Anjellicle Cats Rescue, Bideawee, Bobbi and the Strays, City Critters, Francis's Friends Inc., Husky House, Linda's Cat Assistance, Little Shelter, Long Island Bulldog, Mid-Atlantic Great Dane Rescue League Inc. ., Pet ResQ Inc., SaveKitty Foundation, SPCA of Westchester, Urban Cat League, Yankee Golden Retriever Rescue and 1 Love 4 Animals. [Full disclosure: I have volunteered with Anjellicle Cats Rescue since 2010.]
The Broadway Barks location alone makes for great cameos. Right from the start, visitors can have an encounter with everything from the smallest kittens to the largest Great Danes. Then, in the late matinees, some of Broadway's brightest stars stop by to introduce some of the four-legged friends; others just stop to admire the eye candy the rescue groups have displayed.
Given the carnival atmosphere, most groups go all out with a range of takeaways, like special t-shirts and posters, and the occasional costumed character or two. But the most popular thing to bring home is a stuffed animal. At the very least, if you're lucky enough to be hugged by a Great Dane, grab it. it will make your day.
BroadwayBarks begins at 3 p.m. on July 9, with celebrity presentations from 5 p.m. to 6 p.m. The event is free and open to the public. For more information, visit BroadwayBarks.com.